DAY COUNTY RESOURCES
This page contains information about:

*Domestic Violence *DUI Alcohol Classes
*PROJECT STANDUP
---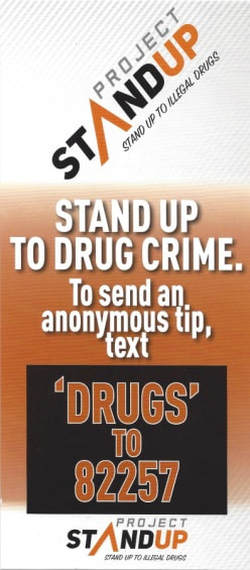 TEXT IN ILLEGAL DRUG USE

​

You have the power to stand up to drug crime. Report any illegal drug use in your
community by anonymously texting your local Law Enforcement.
Your identity is 100 percent protected. By reporting drug users, you are helping to
save their lives and keep our community safe.

Project Standup operates as an anonymous drug tip line, that asks persons with
information about illegal drug activity to text the word 'DRUGS' to 82257. You will
then be asked a series of questions to obtain more information. Once you submit
your anonymous text, the message will be forwarded immediately to
the appropriate Law Enforcement Agency in your area.
---
---
Domestic Violence
Domestic Violence is a pattern of coercive tactics abusers use to obtain and maintain control and power over their partners. It is an assault or threat by one family or household member (current or former) against another. Household members are defined by law as: spouses, former spouses, persons who have lived together, persons who have a child together or persons related by blood, adoption, or law.
25-10-3.2 also defines this to include partners who are involved in a significant romantic relationships
IF YOU ARE IN A DOMESTIC VIOLENCE SITUATION, PLEASE CALL 911 IMMEDIATELY!
---
If Law Enforcement is summoned to a domestic violence call, several statutes apply (see SDCL 25-10-36). If Law Enforcement has probable cause to believe that a crime has been committed, the officer is required to arrest the person who is suspected of committing the crime.
The officer shall arrest the person whom he/she believes to be the predominant aggressor. The person arrested for domestic abuse may not be released from jail until he has gone before a judge who will determine bond and other conditions of release that are necessary for the protection of the victim. Under SDCL 25-10-23 a person charged with an assault involving domestic violence and a bond is authorized, a condition of No Contact with the victim SHALL be stated and incorporated into the terms of the bond. A violation of the No Contact Order is a class 1 misdemeanor. Any violation of a No Contact Order should be reported to Law Enforcement immediately. For more information, see SDCL 25-10-23, 25-10-41 AND 22-19A-17.
Protection Orders
A Protection Order is a legal document signed by a judge prohibiting a person from contacting the petitioner. There are two types of Protection Orders available in South Dakota – a Protection Order for Domestic Abuse and a Protection Order for Stalking or From Physical Harm. A violation of a Protection Order is a Class I misdemeanor. Protection Orders are civil matters, but a criminal charge results when a Protection Order is violated. Any violation of a protection order should be reported to Law Enforcement immediately.
A Protection Order may be filed at the Day County Clerk of Courts Office, which is located at the Day County Courthouse at 711 W 1st St, Webster, SD 57274. Questions about obtaining a protection order can be addressed to staff in the Clerk of Courts Office at 605-345-3771.
You may also print a Protection Order online by visiting the South Dakota Unified Judicial System website at http://ujs.sd.gov. From the website, click on Forms, and then choose Domestic Protection Order or Stalking Protection Order.
DOMESTIC VIOLENCE VICTIM'S ASSISTANCE RESOURCE GUIDE
As a victim of Domestic Violence, the following resources are available to you. Please feel free to contact any of the Agencies listed on this site. We encourage you to seek this assistance. If any agency has questions, please have them contact our Office, Deputy, or Sheriff for the case numbers or specifics about this incident.
SD Domestic Abuse Hotline: 1-800-430-SAFE (7233)
National Domestic Abuse Hotline: 1-800-799-SAFE (7233)
For the Hearing Impaired: 1-800-787-3224
(For Shelter, Advocate Services, Etc.,)
Safe Harbor – Aberdeen 605-226-1212 or 1-888-290-2935
Women's Circle of Sisseton: 605-698-4129
The Beacon Center in Watertown: 605-886-4300
Lutheran Social Services (Watertown): 605-882-2740
Lutheran Social Services (Aberdeen): 605-229-1500
Northeastern Mental Health (Webster): 605-345-3146
(For Protection Orders)
Day County Clerk of Courts: 605-345-3771
SWST Tribal Clerk of Courts: 605-698-7629
(Financial Assistance for Victims of Violent Crimes)
SD Crime Victim Compensation Fund: 1-800-696-9476
---

Safe Harbor
310 S Kline Street PO Box 41
Aberdeen, SD 57402-0041
(605) 226-1212

---
---
The Beacon Center
801 Jenson Ave S,
Watertown, SD 57201
(605) 886-4300

---
---
Northeastern Mental Health Center – Webster
101 West 11th Avenue
Webster, SD 57274
605-345-3146

---
---
---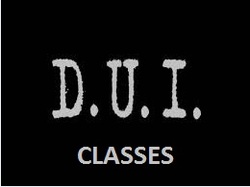 SD Public Safety DUI Program
Court ordered DUI classes are offered in Webster

CERTIFIED INSTRUCTOR
BONDELL RAEDER-ALECK, MRC/CRC
605-956-0464
*Please call for scheduling or contact the Day County Clerk of Courts
for more information

ALL INQUIRIES ARE CONFIDENTIAL!



---
---